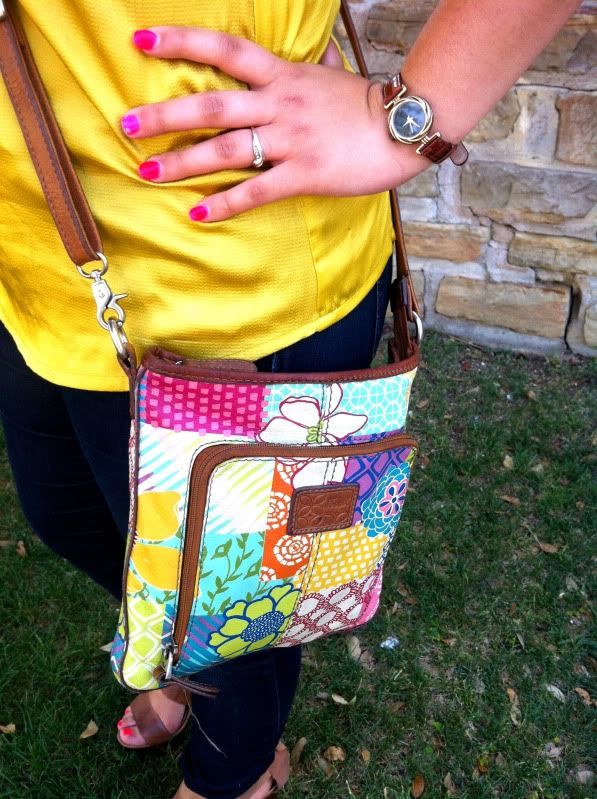 Blouse - Modcloth
Pants - Jessica Simpson 
Watch - Urban Outfitters
Purse - Fossil
Wedges - Steve Madden
Necklace - Urban Outfitters
Earrings - Forever21
Shades - Urban Outfitters 
Oh hi there, let me tell you about today. It was hot, frustrating, annoying, and busybusybusy. I was a wittle grumpy girl all day and nothing was cheering me up. I guess we all have those days, ya know, where you just feel like nothing goes your way and there isn't much you can do to fix it, so that makes you mad even more? I don't know, maybe it's just me. Whatevs.
On a much happier note, don't you just love this top? I do. I've actually got a wittle crush on it. The neck gives it a little Victorian and vintage vibe that I just can't resist. I love the color and I love the way it goes with the honey brown of my bag and the shoes. Love love love it. And it's got super cute little buttons on the back that just cheer me up. 
Here's a quote that definitely cheered me up today and I think it's quite cute how it goes together with my gold top. 
"Don't worry your pretty little mind; people throw rocks at things that shine"
Stick around, frans!
XOXO
-DS